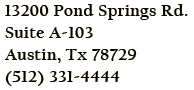 Business Hours:
Monday-Friday 8:30am - 5:00pm

We accept: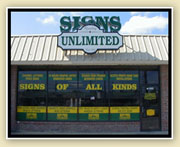 Since 1986, Businesses in Central Texas have relied on Signs Unlimited to provide them with quality signage of all kinds at a reasonable cost. What really sets Signs Unlimited apart from all other competition is how we relate to each and every customer. In an industry where many new sign companies appear each year, we have kept our 'uniqueness' by providing fast and dependable sign service. As a family-owned company for nearly twenty-five years, we pride ourselves with giving our customers the honesty that they deserve and the sign quality they expect. When you do business with Signs Unlimited, you are part of our 'FAMILY'. With each and every sign produced, our reputation and livelihood are on the line. You expect the best, and we do everything possible to deliver the best we have at all times.

You are not just a customer at Signs Unlimited. You have a name and face we will remember and we will always greet with a geniune Hello. As a customer, you are a unique member of the Signs Unlimited Family where honesty, quality,and dependability always count.








I wanted to drop you a line and say what an outstanding job you have done for us at Covert Cadillac and Covert Buick-GMC. The building signage is great. The banners and poster art you have made for us has been great as well. The quality of the work is second to none.

I really appreciate you personally coming out to meet with me and review the projects we undertake. Your art work suggestions have always been outstanding, as well as the graphic designs you generate. Lastly, Jason, your installer, is always fantastic. He is polite and does superior installation.

In short, I am very satisfied with and your company and will continue with Signs Unlimited for all of my needs.

Thank you,
Scott Utterback
General Manager
Covert Cadillac-Buick-Pontiac-GMC
Austin, Texas






Copyright © 2009 Signs Unlimited | All Rights Reserved. | Designed & Hosted by Eclipsing Technologies, Austin, Texas